Nasze hity!
Sanderson The Potting Room
Kolekcja dekoracyjnych tapet firmy Sanderson w stylu cottage. Do tapet z katalogu mogą Państwo zakupić dopasowane tkaniny dekoracyjne - na poduszki, zasłony i rolety rzymskie. Cały katalog oddaje cześć brytyjskim ogrodom kuchennym oraz angielskiej wsi, pragnie stworzyć odprężającą atmosferę w całym domu.
Tapeta z kwiatami czerpie inspirację z sielskiej łąki, jest doskonałym rozważaniem na wprowadzenie wiejskiego klimatu do wnętrz. Wzór przestawiający scenkę rodzajową jest idealnym rozważaniem do rustykalnej kuchni lub jadalni. Tapeta z kratownicą oraz uroczymi trzmielami wprowadzi klasyczny charakter do wnętrz, idealnie odnajdzie się zarówno w pokoju dziecięcym oraz salonie i jadalni. W katalogu znajdą Państwo wiele tapet z ptakami, które beztrosko latają lub przesiadują na gałęziach drzewa. Warto tez wspomnieć o tapecie w liście lipy, geometrycznych tapetach w stylu retro oraz o tapecie w grochy. Wszystkie wzory wprowadzają spokój i harmonię do wnętrz, zapraszamy do zapoznania się z całą ofertą tapet The Potting Room.
Sanderson The Potting Room

Kupuj to, co modne!
Tapeta Christian Lacroix PCL7017/01 Birds Sinfonia Histoires Naturelles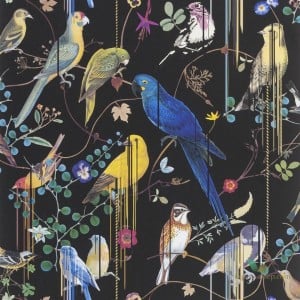 549,00 zł 519,00 zł
Tapeta Newbie 7476 Magic Forest
259,00 zł