Nasze hity!
Cole & Son Whimsical
Na tej stronie mamy przyjemność zaprezentować Państwu kolekcję Cole&Son Whimsical. W jej skład wchodzą nietuzinkowe i w pełni oryginalne flizelinowe tapety ścienne, przyciągające uwagę nowoczesnym oraz wpływającym na wyobraźnię klimatem naniesionych na nie ornamentów. Znajdziemy wśród nich modne wzory arlekin przedstawiające tapety w kolorowe romby, a także tapetę z motylami, wielorybami, gwiazdami oraz roślinnością wodną. Tapeta z wielorybami to jeden z największych bestsellerów. Wszystkie propozycje zachwycają starannością wykonania oraz dbałością o każdy szczegół.
Poniższa kolekcja zawiera także grafikę o nazwie WOODS & STARS, czyli popularne tapety z drzewami i gwiazdkami, dostępne w siedmiu wersjach kolorystycznych. Niewątpliwym atutem poniższych grafik jest ich minimalistyczny styl, kojarzący się z nostalgią oraz beztroskimi latami dzieciństwa. Dzięki temu są to elementy wystroju świetnie prezentujące się na przykład w sypialni, ale także nowocześnie wykończonym salonie. Zapewniamy, że propozycje te doskonale sprawdzą się we wnętrzach, które potrzebują ożywienia w postaci oryginalnej grafiki ściennej, która dopełni minimalistyczne meble czy dodatki.

Kupuj to, co modne!
Tapeta Christian Lacroix PCL7017/01 Birds Sinfonia Histoires Naturelles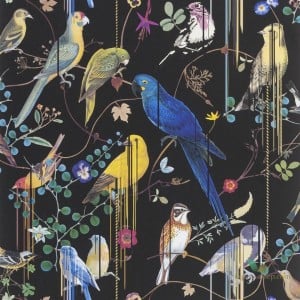 549,00 zł 519,00 zł
Tapeta Newbie 7476 Magic Forest
259,00 zł