Nasze hity!
Designers Guild Contarini
Różnorodna kolekcja tapet i murali dekoracyjnych od marki Designers Guild, idealnie sprawdzi się zarówno w domowej przestrzeni jak i w miejscach użyteczności publicznej. Cały katalog czerpie inspirację z szalonych lat 20 XX wieku kiedy wnętrza nabierały niezwykłego uroku i blasku. Spotkać tu można metalizowane elementy, romantyczne kwiatowe wzory, cieniowania typu ombre oraz subtelne ornamenty.
Fototapeta "Saraille" - bardzo popularny i wielokrotnie nagradzany wzór z cieniowaniami typu ombre jest dostępny w szerokiej palecie kolorów. Nowoczesna tapeta geometryczna "Trissino" - wzór kratownicy jest dostępny zarówno w metalizowanych jak i matowych wariantach, aby każdy mógł wybrać idealną kombinacje dla siebie. Abstrakcyjny wzór przypominający adamaszek, może być użyty zarówno na dekoracyjnej części salonu, jadalni oraz sypialni oraz na całej powierzchni wszystkich czterech ścian. Winylowa tapeta imitująca płótno posiada nieograniczone możliwości aranżacyjne, jest doskonałym rozwiązaniem aby dodać ścianom ciepła i przytulnego charakteru. Tapeta przypominająca mozaikę jest inspirowana antycznymi płytkami, będzie się doskonale prezentować na akcentowej ścianie. Wzór "Melusine" to kwarcowa tapeta, która wprowadzi ekskluzywny i pełen luksusu charakter do wnętrz. Welurowa tapeta z dużym ornamentowym wzorem to doskonałe rozwiązanie aby rozprowadzić do aranżacji luksus i elegancje. Katalog zawiera również kwietne motywy wyglądające jakby były namalowane ręcznie.

Kupuj to, co modne!
Tapeta Christian Lacroix PCL7017/01 Birds Sinfonia Histoires Naturelles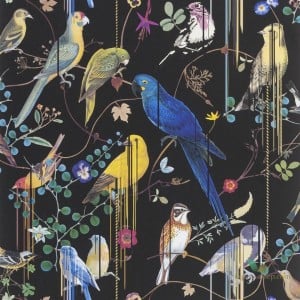 549,00 zł 506,99 zł
Tapeta Newbie 7476 Magic Forest
259,00 zł