Nasze hity!
Cole & Son Landscape Plains
Katalog Landscape Plains oferuje 5 klasycznych i stylowych wzorów, które dostępne są w wielu kolorach. Do wyboru mamy ponad 70 barw (również tych matowych), dzięki czemu każda wizja wymarzonego wnętrza może zyskać tapetę ścienną, która najbardziej odpowiada zamysłowi projektanta. Dodatkową zaletą prezentowanych tu produktów jest to, że wzory mogą stanowić samodzielną dekorację ścian lub służyć jako tło dla innych tapet z portfolio firmy Cole and Son. Paleta barw jest tak dobrana, aby współgrała z całą ofertą marki. To wszystko sprawia, że możliwości konfiguracji są wręcz nieograniczone.
W kolekcji znajdą Państwo tapety w prążki, imitacje jedwabiu, tapety imitujące skóry, tapety w plamki oraz wzory przypominające koralowiec. Wszystkie z nich doskonale wpasują się we wnętrza urządzone w stylu minimalistycznym z nutą elegancji i luksusu. Przepięknie mieniące się w słońcu satynowe wzory sprawiają, że pomieszczenie staje się jaśniejsze i optycznie powiększone. Zachęcamy do wybrania tapety Cole and Son, która najlepiej odpowie na Państwa potrzeby.

Kupuj to, co modne!
Tapeta Christian Lacroix PCL7017/01 Birds Sinfonia Histoires Naturelles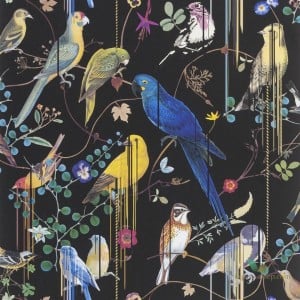 549,00 zł 519,00 zł
Tapeta Newbie 7476 Magic Forest
259,00 zł