Nasze hity!
Arte Moooi – Tokyo Blue

 Belgijska marka Arte oraz holenderska firma Moooi po sukcesie z 2019 roku, kiedy to ukazały się takie bestsellery jak "Menagerie of Extinct Animals" i "Dodo Pavone", po raz kolejny złączyły swoje siły i stworzyły ekskluzywną kolekcję, składającą się z pięciu wzorów. Tapety z kolekcji "Tokyo Blue" inspirowane są japońską kulturą i naturą, wykonane z charakterystycznych technik oraz materiałów, między innymi dżins, naturalne sploty czy intarsje.

 Znajdą tu Państwo makaki zażywające relaksującej kąpieli, leśny, egzotyczny obraz kwiatów i drzew, pośród których chodzą małpki ubrane w tradycyjne, japońskie kimona. Delikatne, kwitnące kwiaty wiśni, które są widywane na japońskich parawanach, wzory inspirowane starożytnymi matami – tatami oraz fornirowane łuki, które symbolizują szczęście, odporność oraz moc.  

Okładziny ścienne z kolekcji "Tokyo Blue" to luksusowe i ekskluzywne tapety nadające każdemu wnętrzu oryginalnego charakteru. Wzory z kolekcji "Tokyo Blue" mogą mieć zastosowanie w różnych pomieszczeniach od salonu, sypialni, jadalni po przedpokój czy gabinet. "Tokyo Blue" to prawdziwy spadkobierca kolekcji "The Museum of Extinct Animals".  

Kupuj to, co modne!
Tapeta Christian Lacroix PCL7017/02 Birds Sinfonia Histoires Naturelles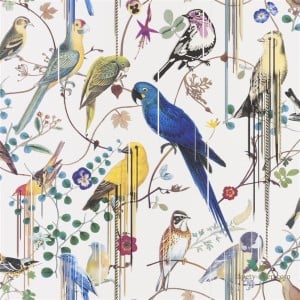 549,00 zł 483,12 zł
Tapeta Newbie 7476 Magic Forest
259,00 zł 220,15 zł
Tapeta Arte 31540 Flamingo Avalon
741,00 zł 652,00 zł