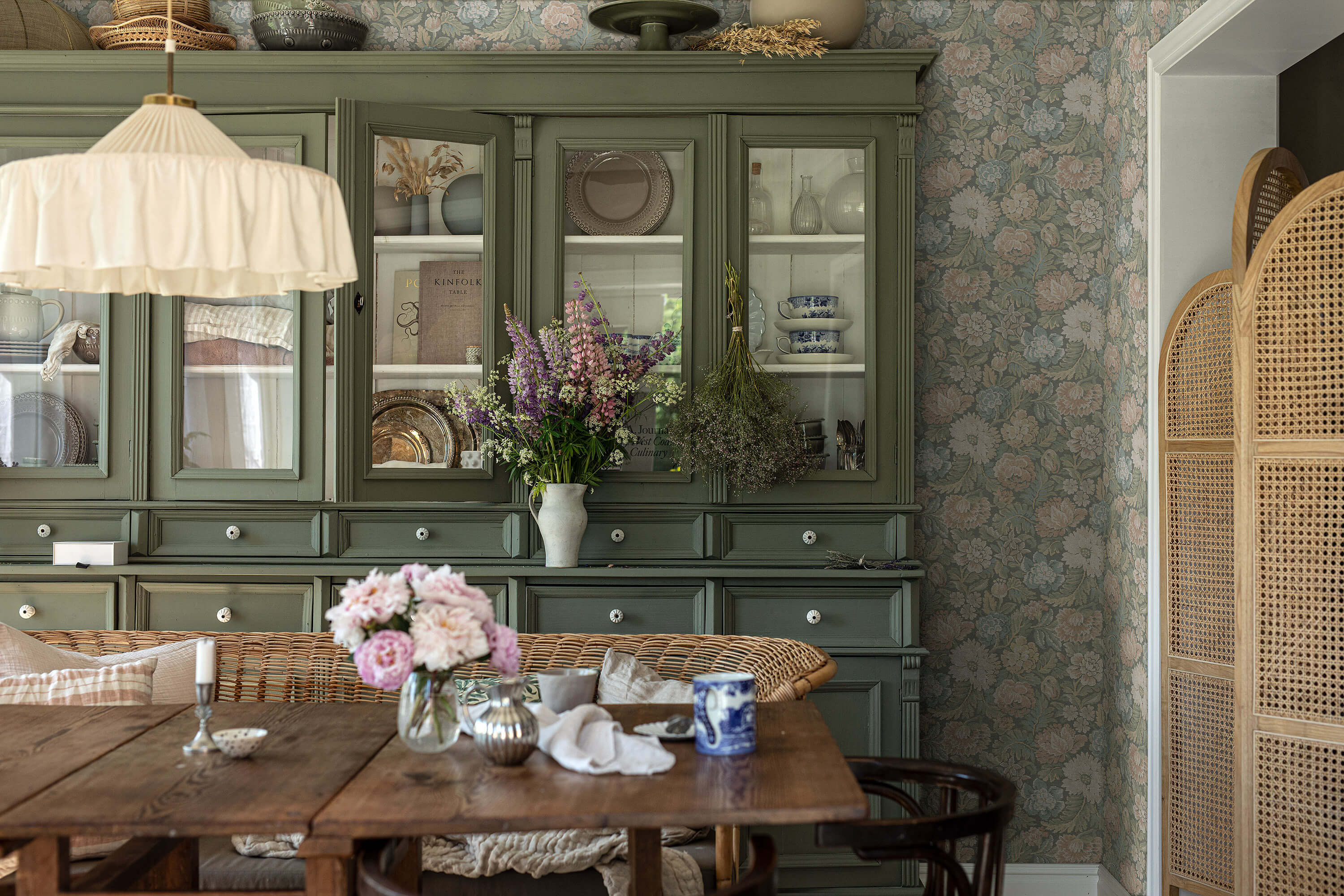 Najnowsza kolekcja tapet i murali ściennych marki Boras Tapeter to połączenie tradycyjnego skandynawskiego stylu z romantycznymi wnętrzami angielskich domków wiejskich. Katalog zawiera 35 projektów tapet w eleganckim rustykalnym stylu. Przepiękny zbiór, pełen różnorodnych faktur oraz charakteru, został stworzony by go po prostu kochać. Inspiracją do powstania tego zbioru były dzieła literackie znanych, angielskich pisarek Jane Austem oraz Virginia Woolf.
Tapety w stylu rustykalnym z roślinnymi wzorami
Wzory roślinne to jedne z najbardziej lubianych i popularnych motów w ostatnich latach. Są to projekty, które sprawdzą się w każdym wnętrzu od klasycznego, po bardziej nowoczesne. Najnowsza kolekcja Cottage Garden oferuje szeroki wachlarz roślinnych motów, które nadadzą Państwa wnętrzom rustykalnego charakteru.
"Nightingale Garden" to wzór, który wstępuje w formie tapety dekoracyjnej oraz muralu ściennego. Przepiękny kwiatowy motyw inspirowany tkaninami oraz florystycznymi wzorami. Wyrafinowany projekt jest połączeniem rustykalnego klimatu z eleganckim stylem, znanym z angielskich domów. Ten pełen ciepła wzór jest stworzony by wprowadzić przytulny charakter do sypialni, kuchni oraz jadalni. Tapeta i mural dekoracyjny wpiszą się w wiele fascynujących aranżacji od tych skandynawskich i wiejskich, po nowoczesne włącznie.
Wzór "Helen's Flower" jest romantycznym motywem kwiatowym, przedstawiającym delikatnie rozmazane kwiatki i liście. Projekt jest pełen poetyckiego wyrazu, przywodzi na myśl wiejskie chatki, pełne kwiatów i roślinnych dodatków. Motyw ten będzie doskonałym uzupełnieniem kobiecych aranżacji w sypialni, salonie oraz kuchni, bez problemu odnajdzie się na wszystkich czterech ścianach, może również służyć jako najważniejszy element na centralnej ścianie. Tapeta z kwiatami to idealne rozwiązanie do rustykalnych oraz skandynawskich wnętrz.
Tapeta "Laura's Cottage" inspirowana jest angielskimi wiejskimi ogrodami, gdzie przepiękne kwiaty tworzą iście poetyckie sady. Delikatne pnącza kwiatów i liści, pełne akwarelowych pociągnięć pędzla, otulą Państwa ściany, tworząc harmonijną i spokojną estetykę. Przepiękny projekt w rustykalnym stylu doskonale będzie się prezentował na ścianach w kuchni, sypialni oraz salonie, wprowadzając do tych pomieszczeń elegancki klimat w wiejskim wydaniu.
Mural dekoracyjny "Florence" jest połączeniem romantycznej duszy z nowoczesnością. Delikatne wzory kwiatowe zostały ukazane na tle przypominającym tynk. Barwy szarości, stonowanej zieleni oraz różu wprowadzają spokojny klimat do pomieszczeń, pełen relaksu i harmonii. Ręcznie malowane kwiaty oraz ich delikatne cienie ukazane w oddali, będą doskonałym wyborem na najważniejszą ścianę do pokoju dziennego, dziecięcego oraz sypialni.
Stonowane wzory tapet w stylu rustykalnym
Katalog Cottage Gardem w swojej ofercie posiada również bardziej stonowane wzory, które znakomicie współgrają z innymi tapetami z tego zbioru. Bez problemu mogą być wykorzystane na wszystkich czterech ścianach jako uzupełnienie aranżacji. Wzory szkockiej kratki, motywy przypominające tynk oraz imitacje tkanin to ponadczasowe projekty, które sprawdzą się w wielu klasycznych oraz nowoczesnych wnętrzach.
Tapeta "Tailor's Tweed" to tradycyjna szkocka krata, wzór swoją inspirację czerpie z klasycznych i doskonale skrojonych tweedowych garniturów. Projekt otuli Państwa wnętrza swoim ciepłem i przytulnym charakterem. Takie wzory to idealne motywy do męskich wnętrz, bardzo dobrze prezentują się w gabinetach, sypialniach oraz garderobach. W kolekcji Cottage Garden tweedowy motyw jest dostępny w pięciu odcieniach kolorystycznych.
Wzór "Painter's Wall" ukazuje piękno w czystej formie, motyw inspirowany tynkowymi ścianami świetnie wpisuje się w eleganckie rustykalne wnętrza. Delikatne odcienie beżu oraz szarości odnajdą się zarówno w dużych i przestronnych apartamentach, jak i małych wiejskich domkach. Tapetę "Painter's Wall" mogą Państwo zobaczyć w dwóch kolekcjach marki Boras Tapeter: Cottage Gardem oraz Chalk.
Tapeta przypominająca tkaninę "Weaver's Wall" to uniwersalny motyw, który wprowadzą ciepły i przytulny charakter do wnętrz. Bardzo dobrze komponuje się z innymi wzorami, jest świetnym tłem dla zdjęć, obrazów oraz roślin. Stonowane kolory sprawią, że tapeta będzie doskonałym uzupełnieniem wnętrz, w stylu skandynawskim, rustykalnym oraz klasycznym.
 [product id="119571, 119573, 119582, 119602, 119605"][product id="119585, 119590, 119594, 119598, 119604"]
Zobacz całą kolekcję eleganckich tapet Cottage Garden→