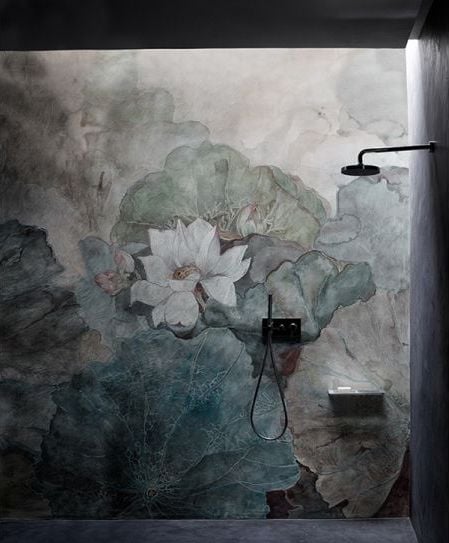 Tapeta Wall&Deco Niveum WET_NI1601
[product category_id="1305" limit="50" slider="true"]
Tapety już dawno przestały być jedynie dekoracją salonów i sypialni. Współcześnie, stosowane technologie i nowoczesne systemy, pozwalają ozdabiać nimi także kuchnie i łazienki, w których ze względu na dużą wilgotność i zmiany temperatur, do tej pory nie stosowano oklein ściennych.
Innowacyjne rozwiązania pod prysznic dostępne są u kilku producentów tapet, których produkty znajdą Państwo w naszej ofercie są to takie włoskie marki Tecnografica, Wall&Deco, LondonArt, Inkiostro Bianco oraz SkinWall a także polski producent Quies. Wszystkie te marki dostarczają rozwiązań, które w zestawie zawierają pełen system pozwalający na montaż ich pod prysznicem.  
 Innowacyjny system pod prysznic
Montaż odbywa się przy pomocy podkładu i kleju, dostarczanego wraz z zamówioną tapetą. Następnie, nanoszony jest specjalny impregnat, który czyni ją odporną na wilgoć, zmienne temperatury, a także detergenty, stosowane do mycia sanitariatów. Dzięki temu, okleiny ścienne z powodzeniem można kłaść w kabinie prysznicowej czy w okolicy wanny, nie martwiąc się o uszkodzenia bądź odklejanie od ściany. Odpowiednio zasilikonowane brzegi tapety zapewniają bezproblemowe użytkowanie przez wiele lat - aż do znudzenia! 
Oryginalne tapety do każdego wnętrza
W naszym sklepie internetowym prezentujemy tapety, które w zależności od rodzaju, mogą stać się elementem wyposażenia kabiny prysznicowej, łazienki lub kuchni urządzanej niemal w każdym stylu. Marki Tecnografica, Wall and Deco, LondonArt czy Inkiostro Bianko mają w swojej ofercie wzory klasyczne, nowoczesne geometrie czy odważne abstrakcje. Kompozycje botaniczne, które cieszą się ostatnio ogromnym powodzeniem m.in. tropikalne liście, kwiaty, i rośliny z całego świata. Dzięki tak bogatej ofercie okładziny ścienne mogą Państwo dobrać zarówno do wnętrz stylowych, eleganckich czy minimalistycznych w duchu modern czy urban jungle.
Tapety z systemem WET świetnie sprawdzą się nie tylko w łazience, ale również w kuchni między szafkami. Włoskie tapety to wysokiej jakości okleiny, które dzięki specjalnej powłoce, pozwalają na łatwe usunięcie wszelkich zabrudzeń. Szeroka gama kolorystyczna, mnogość wzorów oraz warianty dopasowane indywidualnie do potrzeb każdego Klienta, pozwalają znaleźć rozwiązanie idealne zarówno do niewielkich, jak i przestronnych kuchni.
Producenci co roku wydają nowe kolekcje swoich tapet – co ważne, nie ulegają one przedawnieniu, ponieważ każdorazowo projekt jest drukowany indywidualnie dla Klienta. Każde zamówienie przygotowane jest na konkretny wymiar ściany, a przed ostatecznym wydrukiem otrzymują Państwo wizualizację do akceptacji.
[product id="104884, 104878, 104882"]
Łazienka to nie tylko prysznic
Już od dawna tapeta w łazience przestała być tematem tabu. Coraz więcej Klientów i architektów sięga po tapety do łazienki i bardzo dobrze ponieważ stosunkowo niewielkim kosztem możemy diametralnie odmienić wnętrze. Jak wiemy łazienka to nie tylko kabina prysznicowa. Jakie tapety możemy położyć więc poza nią? Otóż odpowiedź jest bardzo prosta - praktycznie każdą fizelinową czy winylową tapetę. Musimy zadać sobie tylko jedno pytanie - czy ściana będzie narażona na bezpośrednie działanie wody czy nie. W wielu miejscach ściany nie mają kontaktu z wodą więc możemy wytapetować je nawet tapetami na flizelinie - bez specjalnych i kosztownych impregnatów.
[product category_id="2255" slider="true"]