Nasze hity!
York Geometric Resource Library
Kolekcja Geometric Resource Library od amerykańskiej marki York Wallcoverings jest zbiorem geometrycznych wzorów. Tapety geometryczne ukazane są na wiele sposobów jedne tworzą abstrakcyjne motywy inne z kolei minimalistyczne wzory. Niektóre tapety geometryczne utrzymane są w klimacie Hampton czy nowojorskim inne zaś odnajdą się w artdekowskich aranżacjach.
W katalogu warto zwrócić uwagę na jeden z najbardziej pożądanych motywów w ostatnim czasie – tapeta w koniczynę marokańską, klasyczny wzór został ręcznie namalowany na matowym, kredowym tle. Przyjemna w dotyku tapeta welurowa ze wzorem przypominającym labirynt to doskonałe rozwiązanie zarówno do klasycznych wnętrz oraz współczesnych aranżacji. Wzór "Beveled Edge" to okazałym motyw geometrycznej plecionki, który został wykonany z cienkich, metalizowanych linii przepięknie mieniących się w świetle, nadających wnętrzom ekskluzywnego charakteru. Geometryczna tapeta ze wzorem stylowej kratownicy będzie doskonałym rozwiązaniem dla wnętrz urządzonych w klimacie Hampton oraz nowojorskim. Te i wiele innych projektów znajdą Państwo w tej olśniewającej kolekcji, gdzie każdy miłośnik geometrii odnajdzie idealny wzór do swojego wnętrza.

Kupuj to, co modne!
Tapeta Christian Lacroix PCL7017/01 Birds Sinfonia Histoires Naturelles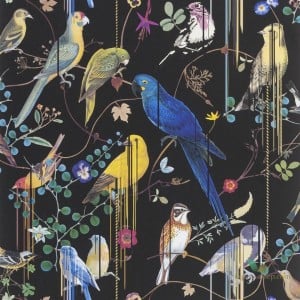 549,00 zł 519,00 zł
Tapeta Newbie 7476 Magic Forest
259,00 zł