Nasze hity!
Wallquest English Style
Kolekcja English Style firmy Wallquest to doskonała propozycja dla miłośników klasycznego wzornictwa. Katalog oferuje eleganckie wzory inspirowane latami 30-tymi, 40-tymi oraz 50-tymi ubiegłego wieku. Zbiór jest inspirowany ruchem artystycznym Arts and Crafts zrzeszających malarzy, rzeźbiarzy, architektów i rzemieślników, aby stworzyć użytkową sztukę dla całego społeczeństwa.
W katalogu znajdą Państwo tapety z kwiatami i liśćmi, które są wzorowane na tkaninach zaprojektowanych przez Williama Morrisa. Tapety z kratownicami utrzymanymi w stylu art-deco, które były widywane w willach, hotelach oraz klubach w latach 20-tych i 30-tych XX wieku. Tapeta w pasy, pozwoli wprowadzić angielską klasykę do wnętrz, wzór swoim wyglądem przypomina elegancką tkaninę. Tapety z ornamentowym wzorem dzięki przetarciom i podniszczeniom nabierają XVIII wiecznej elegancji. Tapeta imitująca kafle ozdobiona kwietnym wzorem będzie świetnym uzupełnieniem kolonialnej aranżacji. Wszystkie projekty z katalogu English Style pomogą wprowadzić angielską elegancję i stworzą urzekające aranżacje.

Kupuj to, co modne!
Tapeta Christian Lacroix PCL7017/01 Birds Sinfonia Histoires Naturelles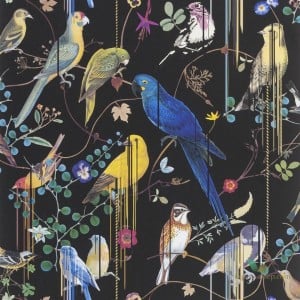 549,00 zł 506,99 zł
Tapeta Newbie 7476 Magic Forest
259,00 zł