Nasze hity!
York - Magnolia Home 2 by Joanna Gaines
Najnowsza kolekcja "Magnolia Home 2" marki York Wallcovering to kontynuacja świetnie przyjętej na całym świecie kolekcji "Magnolia Home" znanej amerykańskiej projektantki Joanny Gaines. Od lat możemy oglądać jak wraz z mężem Chipem jako zgrany duet prowadzą program "Domy z potencjałem" gdzie zamieniają koszmarne i źle zaplanowane mieszkania, we wnętrza ze smakiem, wręcz stylistyczne perełki. Pierwszy katalog spotkał się z ogromnym entuzjazmem w świecie wnętrzarskim a także wśród naszych Klientów. Drugie wydanie to bardzo ciekawa propozycja utrzymana w stylistyce oraz kolorystyce pierwszej. 
Część wzorów utrzymana jest w stylistyce retro – rozbielone kolory, przetarta faktura i wzory kwiatowe, roślinne, botaniczne, to strzał w dziesiątkę przy urządzaniu wnętrz eklektycznych z nutą vintage. Katalog również obfituje we wzory inspirowane naturalnymi płótnami m.in. kratownicą oraz prążkami. W kolekcji znajdą Państwo m.in. szkicowane kraty czy szkicowane romby oraz klasykę taką jak pasy. Gratką do wnętrz eleganckich i stylowych są tapety welurowe ze wzorem leśnych paproci.

Kupuj to, co modne!
Tapeta Christian Lacroix PCL7017/01 Birds Sinfonia Histoires Naturelles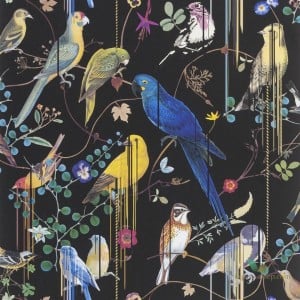 549,00 zł 519,00 zł
Tapeta Newbie 7476 Magic Forest
259,00 zł