Nasze hity!
Graham & Brown - Kelly Hoppen Style II
Najnowszy Katalog marki Graham & Brown "Kelly Hoppen Style II" to propozycja projektantki Kelly Hoppen – druga część jej świetnie przyjętego katalogu Style. W kolekcji znajdziemy nowoczesne wzory, dużo geometrii i świetne połączenia matu z połyskiem.
Tapety zawarte w katalogu to w większej mierze winyle, bardzo odporne oraz eleganckie welurowe wzory.
Klasyka taka jak pasy nabiera nowego wymiaru poprzez zróżnicowanie grubości poszczególnych pasów. Nowoczesne wzory, plamy farby, odciśnięte kubki z kawą to również zabawa formą i nadanie im dostojności poprzez wybłyszczenie srebrem lub złotem. Dla miłośników prostych wzorów kolekcja posiada kilka wariantów wzorów geometrycznych, mniejszych oraz większych w spokojnych tonacjach oraz w kontrastowych, znów z dodatkiem eleganckiego połysku na macie.
Kolekcja poprzez swoją różnorodność idealnie wpisze się w nowoczesne stylizacje, utrzymane w stylu modern, z minimalistycznymi dekoracjami, poprzez zastosowane spokojnych kolorów daje wiele możliwości aranżacyjnych w salonach, sypialniach, jadalniach, czy nawet korytarzach i kuchniach. 
Nie znaleziono produktów spełniających podane kryteria.

Kupuj to, co modne!
Tapeta Christian Lacroix PCL7017/01 Birds Sinfonia Histoires Naturelles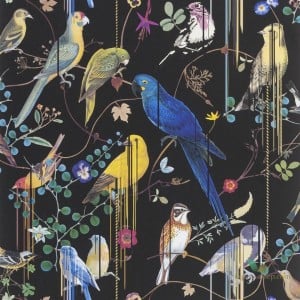 549,00 zł 519,00 zł
Tapeta Newbie 7476 Magic Forest
259,00 zł