Nasze hity!
Hooked On Walls - Jungle Jive
Katalog Jungle Jive marki Hooked On Walls to świetne połączenie elegancji i najnowszego trendu – botanicznych tapet. Wzory nawiązujące do tropikalnych lasów cieszą się coraz większą popularnością,tapety w liście, tapety z palmami, pnącza to ciekawa alternatywa dla klasycznych kwiatów. W katalogu znajdą Państwo zarówno szkicowane palmy jak i malowane egzotyczne gęstwiny. Wiele tapet ozdobionych jest połyskującym konturem bądź wykończeniem przez co nabiera szykowanej elegancji. Dodatkowo marka pozwoliła sobie na zabawę kolorem i tak w kolekcji znajdą się odważne nasycone granaty, zielenie, turkusy czy ciemne mięty, oraz spokojne i stonowane beże, szarości, pastele. Katalog wieńczą dwie wersje delikatnego tła zaczerpnięte z innej świetnie przyjętej kolekcji marki Hooked on Walls Tweed oraz Edge. 
Tapety zebrane w kolekcji Jungle Jive to kompilacja idealna – wkomponują się zarówno we wnętrza nowoczesne, stylowe, klasyczne, inspirowane art deco, retro czy nawet młodszym stylem mid century modern wprowadzając kolorowe akcenty egzotycznej botaniki do miejskiejdżungli.

Kupuj to, co modne!
Tapeta Christian Lacroix PCL7017/01 Birds Sinfonia Histoires Naturelles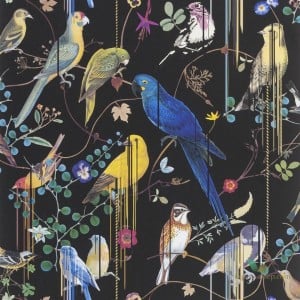 549,00 zł 519,00 zł
Tapeta Newbie 7476 Magic Forest
259,00 zł