Nasze hity!
Holden The Enchanted Garden
Zaczarowana kolekcja tapet dekoracyjnych Enchanted Garden od angielskiego producenta Holden. Inspiracją do powstania tego zbioru były przepiękne angielskie ogrody, pełne kolorowych kwiatów, drzew oraz ptaków i motyli latających wokół pięknej roślinności. Tapety z motywem natury wprowadzają do wnętrz uspokajający i relaksujący klimat pełen przyjaznej atmosfery.
W tej kolekcji znajdą Państwo bardzo dużo tapet ze wzorem kwiatów. Część wzorów przywodzi na myśl sielską łąkę z kolorowymi kwiatami - takie motywy sprawdzają się we wnętrzach w stylu cottage oraz angielskich stylizacjach. Inne wzory prezentują okazałe bukiety piwonii, doskonale pasujące na akcentową ścianę. Do wnętrz w stylu klasycznym doskonale będzie pasować tapeta z różami i latającymi wokół nich motylami.
W katalogu można spotkać również tapety z drzewami, na których przesiadują kolorowe ptaki i motyle. Taki wzór idealnie sprawdza się jako akcent na głównej ścianie w salonie, jadalni oraz sypialni. Wzór kwiatowego pnącza z ptakami i motylami jest idealny do angielskich stylizacji oraz wnętrz młodzieżowego pokoju.
Nietuzinkowa tapeta z rybami, które pływają wśród kolorowych kwiatów, to niebanalny, łamiący zasady wzór. Idealnie będzie się prezentował na akcentowej ścianie w salonie oraz pokoju dziennym i młodzieżowym.
Holden The Enchanted Garden

Kupuj to, co modne!
Tapeta Christian Lacroix PCL7017/01 Birds Sinfonia Histoires Naturelles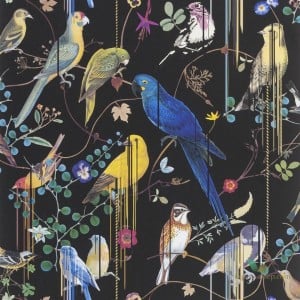 549,00 zł 506,99 zł
Tapeta Newbie 7476 Magic Forest
259,00 zł