Nasze hity!
Hooked On Walls - Hidden Treasures
Nietuzinkowa i przepiękna kolekcja tapet z motywami morskimi, będzie doskonałym rozwiązaniem dla każdego miłośnika podwodnego świata. Tapety w stylu marinistycznym są wykończone połyskującymi elementami, które dodatkowo przepięknie będą odbijać światło. Wzory tapet zostały wyprodukowane aby każdy mógł stworzyć morski styl w prywatnych mieszkaniach. Wzory tapet będą doskonałym rozwiązaniem do wnętrz urządzonych w stylu nowoczesnym, hampton oraz coastal.
W kolekcji znajdą Państwo tapety z karpiami – w ostatnim czasie jest to bardzo popularny motyw wśród naszych klientów, przepiekane ryby staną się główną atrakcją w stylowym salonie lub sypialni, obok której nikt nie przejdzie obojętny. Wzór przypominający rybie łuski, tworzący swego rodzaju wachlarze to bardzo dobre rozwiązanie dla osób chcących urządzić mieszkanie w stylu art-deco. Tapeta z konikami morskimi, rozgwiazdami, wodorostami oraz muszlami przedstawiona jest w stylu retro będzie doskonałym tłem dla nowoczesnych i stylowych dodatków. Na uwagę zasługują również tapety w koralowce, meduzy oraz niespotykany wzór tapet z syrenami układającymi się w pasy.

Kupuj to, co modne!
Tapeta Christian Lacroix PCL7017/01 Birds Sinfonia Histoires Naturelles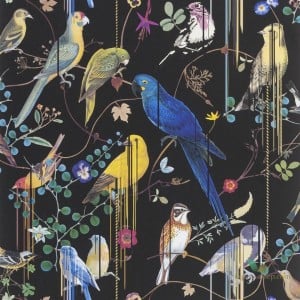 549,00 zł 506,99 zł
Tapeta Newbie 7476 Magic Forest
259,00 zł