Nasze hity!
A.S. Creation - Four Seasons
Katalog Four Seasons niemieckiej marki A.S. Creation to interesująca pozycja dla osób szukających naturalności we wnętrzu. Tapety utrzymane są w stonowanych raczej chłodnych odcieniach wręcz pastelowych. Struktura tapety również nie odstaje od najnowszych trendów w każdym przypadku są to lniane płótna – matowe satynowe wykończenie dodaje subtelnej elegancji we wnętrzu.
Wzory, które zaprojektowała marka to kilka wysublimowanych motywów – roślinnych, zwierzęcych oraz geometrycznych. W katalogu znajdą Państwo tapety z retro wzorem brodzących w wodzie czapli, jak również nowoczesnych ważek. Florystyczne wzory to leśne gałązki oraz iglaste krzewy. Geometrię reprezentują mocne i subtelne wzory - akcentujące wnętrze, bądź tworzące ciekawego jego tło. Katalog wieńczy zestaw kilkunastu odcieni gładkiego lnianego tła idealnie dopasowanych do wzorzystych tapet z kolekcji Four Seasons.

Kupuj to, co modne!
Tapeta Christian Lacroix PCL7017/01 Birds Sinfonia Histoires Naturelles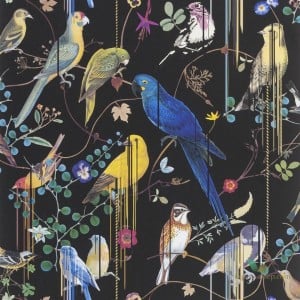 549,00 zł 519,00 zł
Tapeta Newbie 7476 Magic Forest
259,00 zł