Nasze hity!
Cristiana Masi Forme
Eklektyczna kolekcja Forme zaprojektowana przez Cristiana Masi to cudowne połączenie kształtów, tekstur i geometrii. Katalog łączy estetyczne oddziaływanie naszych zmysłów z kreatywną swobodą szalonych lat 70-tych. Katalog prezentuje zjawiskową mieszankę stylów ze współczesnymi trendami.
W kolekcji znajdą Państwo tapety z motywem kończymy marokańskiej, które posiadają wyczuwalną w dotyku fakturę trochę przypominającą sierść, będą doskonałe do klasycznych oraz eklektycznych wnętrz. Bardzo interesująca tapeta w heksagony, gdzie na pierwszym planie widzimy siatki w kształcie heksagonów natomiast drugi plany wypełnia układ heksagonalnej mozaiki. Trójwymiarowa tapeta z nieregularnymi bryłami, które posiadają wytłaczane prążki będzie wygalać na ścianie spektakularnie i dynamicznie. Klasyczna tapeta z ornamentem przedstawiona w formie dekoracyjnych medalionów posiada wyczuwalne w dotyku tłoczenia przypominające beton. Tapeta z roślinnym pnączem wniesie do Państwa wnętrza przytulną i miłą atmosferę. Tapeta w pasy to klasyczny wzór, który został naniesiony na tło przypominające przetarty beton. W katalogu znajdą również Państwo tapetę imitującą beton, która będzie doskonałym tłem do pozostałych wzorów, można ją wykorzystać na wszystkie cztery ściany do wnętrz urządzonych w industrialnym stylu.

Kupuj to, co modne!
Tapeta Christian Lacroix PCL7017/01 Birds Sinfonia Histoires Naturelles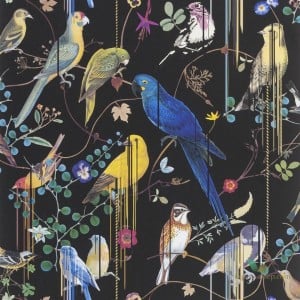 549,00 zł 519,00 zł
Tapeta Newbie 7476 Magic Forest
259,00 zł