Nasze hity!
Casadeco Williamsburg
Kolekcja tapet i tkanin francuskiej firmy Casadeco. W katalog Williamsburg kryją się piękne tapety i tkaniny w kwiaty, tapety w szerokie pasy oraz gładkie tła. Wzory wyglądają jak namalowane na malarskim płótnie.
Tapety imitujące płótno to bardzo modny i uniwersalny wzór, który sprawdza się zarówno w klasycznych jak i nowoczesnych wnętrzach, stanowi doskonałe uzupełnienie do bardziej wzorzystych motywów, jest też świetnym rozwiązaniem na wszystkie cztery ściany. Tapety w pasy to klasyczny, angielski styl, który dodaje ciepła i elegancji każdym aranżacją. Tapeta w kwiaty będzie się zawsze dobrze prezentować na ścianach, wprowadzi naturę do wnętrz i sprawi, że wnętrze nabierze ciepłego i przytulnego charakteru.
Wszystkie tapety zostały wykonane z winylu odpornego na zmywanie, dzięki czemu wzory będą się doskonale prezentować nie tylko w przestrzeni domowej ale również jako tapety obiektowe do restauracji, hoteli oraz kawiarni.

Kupuj to, co modne!
Tapeta Christian Lacroix PCL7017/01 Birds Sinfonia Histoires Naturelles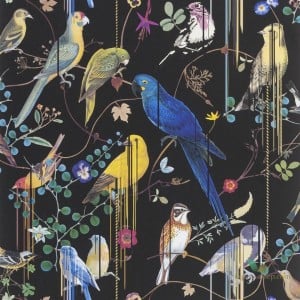 549,00 zł 519,00 zł
Tapeta Newbie 7476 Magic Forest
259,00 zł